If you are a Puget Sound Venture Club member and want access to the PSVC Document Depository, you can use the form at the bottom of this page to request access.
---
Overview
Most of the documents and files that you have been receiving by email have been added to the new PSVC Document Depository on Google Drive.
You can easily search for what you are looking for. Search also searches within the documents, so you can search for names, cities, industries, deal types, or whatever else you are looking for.
All documents can be easily printed or downloaded.
---
Accessing the PSVC Document Depository
*Access is only available for current PSVC Members
Other ways to access Google Drive and the PSVC Document Depository folder:
---
Instructions on how to use the new PSVC Document Depository
When you log in to Google Drive, you will access the folder by clicking "Shared with Me" and then the folder is called "Puget Sound Venture Club."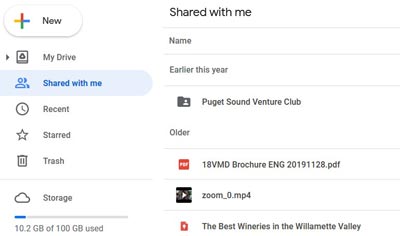 Files are organized into the following folders:
Company Information
Meeting Agendas – Results, etc.
Education
Resources
They are further filed by year (i.e., 2021, 2020, etc.). We also established a naming convention for each file, making it easy to browse the folders and find what you are looking for.
Searching Files: Google has very powerful search capabilities built into Google Drive, so this should make it very easy to find whatever you are looking for.
Search behaves very similar to searching Google.com, except you do have an advanced search feature, by clicking the inverted delta symbol to the right of the search box.
A few other tips for using Search:
Quotes: Use quotes to find documents that contain an exact word or phrase. Example: "Pacific West Land"
Plus Sign or Minus Sign: Find documents that include or exclude a particular word. For example, if searches are pulling up other docs from your other folders on your drive, you can try adding "+PSVC" to your keyword. Example: "Pacific West Land" +PSVC
Searching Files on Google Drive
---
Other Google Drive Tutorial Videos
If you are interested in learning using Google Drive for other aspects of your life or business, here are a few tutorial videos you might find interesting.
How to Get Started on Google Drive
Organize and share individual and team content with Google Drive
Getting the Most Out of Google Drive
---